CSR Projects
At NASCO, we intend to do our best to share resources to contribute to a better quality of life. However, our CSR programmes are not just about financial donations. They are much more about developing partnerships with the wider community through devoting time and energy to support local, regional and national initiatives that help to build and maintain healthier communities. Our CSR programmes are designed to help people break-out of the cycle of poverty and become self-sufficient. We consistently promote volunteerism and grant many opportunities for active community assistance. On this page you can explore the various CSR programmes conducted over the years that have captured the true spirit of our company.
NASCO Projects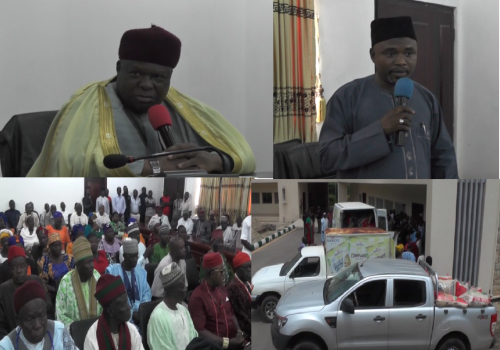 Donates Relief Materials to IDPs
The Management of Nasco Group paid a condolence visit to His Majesty,  The Gbong Gwom Jos/Chairman, Plateau State Traditional Council, Jos over the lost of lives and dislodgment of some Communities at Barkin-Ladi, Ryom and part of Jos South Local Government Area as a result of a mayhem between herdsmen and the communities in July, 2018.
During the visit, assorted Relief Materials for the Internally Displaced Persons were donated.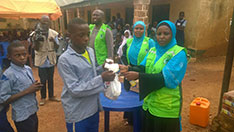 Typhoid Campaign – Bukuru, Plateau
NASCO and its partners carried out a Typhoid awareness campaign in various communities of Bukuru. This was as a result of the high prevalence of the infection that was exacerbated by the poor levels of sanitation and hygiene in the area. The campaign focused on communicating the importance of maintaining hygienic environmental conditions to prevent the spread of the disease. Medical laboratory scientists from the city's teaching hospital were engaged to provide screening services on Typhoid. Free treatment was then prescribed to those who were diagnosed with the disease, in addition to various antiseptic items that were distributed across the community. (July 2016)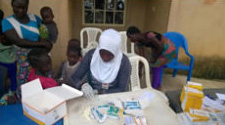 Malaria Testing & Treatment – Jos South, Plateau
In collaboration with the ICIN organization, NASCO rolled out a programme for the testing and treatment of malaria to many of the refugees at the Internally Displaced Persons camps in Plateau State. A large number of tests were conducted by health professionals, and the appropriate malaria medications were given where required. In addition, NASCO donated hundreds of treated mosquito nets to the vulnerable people at the IDP camps to further protect them from the risk of malaria. (September 2015)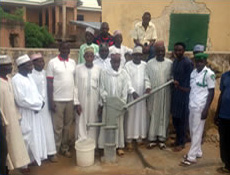 Community Borehole – Tudun Wada, Plateau
NASCO recognizes the importance of ensuring that safe water supplies reach the poorest and most marginalised people throughout the region. The company financed a number of water projects in various states, including a borehole in the Tudun Wada area. This new water facility will guarantee a safe and clean supply for the people of the community, further supporting their economic development. (June 2015)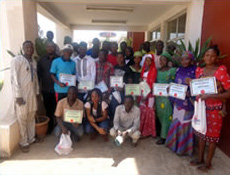 Youth Empowerment Programme – Jos, Plateau
NASCO Group embarked on an empowerment programme that engaged youths in a variety of vocational skills and acquisition training in areas such as computer technology, tailoring, hairdressing, carpentry, welding and agricultural training. Kiosks for selling products were constructed and given to participants of the programme, while microcredit loans were distributed to several beneficiaries for small-scale businesses. Scholarships were also awarded to youths who had obtained admission to tertiary institutes across the country. (March 2015)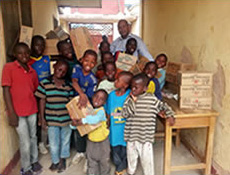 NASCO Orphanage Donations – Jos, Plateau
NASCO Group continues to demonstrate its unrelenting commitment to corporate social responsibility in its home state by reaching out to those who are most in need of a helping hand. Hundreds of cartons of assorted biscuits were distributed to 10 orphanages in Jos, namely Rafiki Foundation, Gidan Bege, Gyero Kid Care Centre, Clapai Kangan Centre, Kingdom Kids Klub, Kids with a Vision Foundation, The Needy Missions Orphanage, Rukubah Children's Home, Child Evangelism & Discipleship Ministries, and Zawan Orphanage. The donations were received with immense joy and appreciation by all the orphans and caretakers. (June 2014)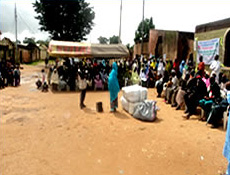 Malaria Action Programme – Jos, Plateau
In collaboration with a local NGO, NASCO organized a new programme to sensitize all the residents of the neighbourhood on the causes of malaria, as well as on the various prevention and treatment methods. The team, which included Dr. Zuwaira of the Jos University Teaching Hospital, was received by the representative of the District Head, Mr. Gabriel Bot, and the Ward Councillor, Hon. Dickson Pam. NASCO distributed 500 treated mosquito nets to the residents of the neighbourhood, with the objective of reducing the large number of recurring malaria cases. (July 2013)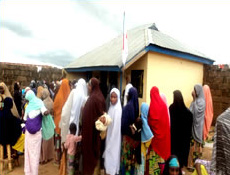 Flood Victims – Rikkos, Plateau
On 15 July 2012, the residents of Rikkos and the surrounding districts became victims of a deadly flood which claimed the lives of around 70 people. The intensive rain and flood also destroyed countless properties, leaving more than 400 families homeless. NASCO immediately arranged a visit to the camps for the displaced persons and provided a number of volunteer services to deal with the risks of cholera from the contaminated water. Several materials were supplied to all the pregnant women in the camp, including medication, treated mosquito nets, ORTs and water guards for the purification of the drinking water, which is necessary to prevent a cholera outbreak. (July 2012)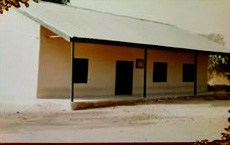 New Library – Riyom, Plateau
NASCO supported the construction and refurbishment of a new library in a rural community of the state. The majority of the children to benefit from this scheme come from disadvantaged backgrounds, and have limited access to educational opportunities. The Group was welcomed by the Proprietor, Pastor Da Chomo, and about 25 of the registered students. The local community was further assisted with basic school kits, a large collection of quality teaching books and several gift items. (April 2012)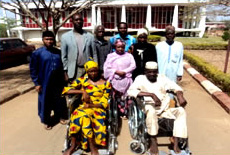 Wheelchair Donations – Jos, Plateau
NASCO Group, through the ICIN organization, decided to support a number of physically challenged people in the nearby communities. This involved the purchase of several new wheelchairs for individuals who were crippled from a young age as a result of polio. The donation would greatly alleviate the challenges they encountered in their movement while going to school or when searching for their livelihood. The presentation was carried out at the Group's corporate headquarters. (March 2012)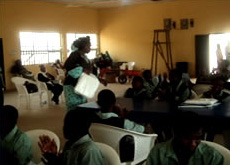 Jabi Blind Home – Abuja, FCT
In collaboration with a local NGO, NASCO organized a programme to sensitize the 85 blind children of the center on the causes of malaria, as well as on the various prevention and treatment methods. The team was received by the Assistant Headmaster of the school, Mr. Isaac Johnson. NASCO distributed treated mosquito nets to all the residents, with the objective of drastically reducing the number of blind children being affected by malaria. The Group further sponsored visits by eye doctors to provide the treatments necessary to protect the partially blind children from complete blindness. (February 2012)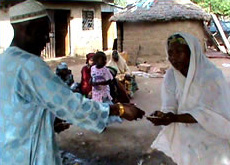 Empowerment Programme – Jos, Plateau
In collaboration with the Awareness for Educational Development Initiative (AWEDI), NASCO organized a programme to empower a number of widows and elderly women in the local community to become self-sustaining. It involved setting up the beneficiaries with seed capital to start a variety of petty trading businesses, in conjunction with the relevant training and guidance. The successful ventures would in turn increase their access to important healthcare and educational services, while enabling them to support other members of their extended families. (November 2011)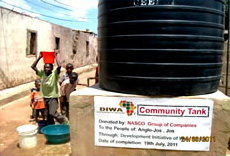 Community Water Tank – Jos, Plateau
NASCO, together with the Development Initiative of West Africa (DIWA), installed a number of water storage tanks in the local urban communities. Water supply is completely unpredictable across much of the nation, and such tanks are able to collect the water when it does flow. Consequently, they each provide a free source of safe water to poor communities of about 500 people. This project was carried out in conjunction with several community educational seminars on hygiene and sanitation. (July 2011)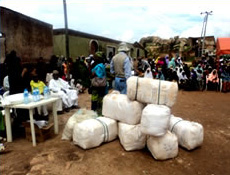 Malaria Action Programme – Jos, Plateau
In collaboration with a local NGO run by Ms. Fatima Suleiman, NASCO organized a programme to sensitize all the residents of the neighbourhood on the causes of malaria, as well as on the various prevention and treatment methods. The interactive lectures conducted by Dr. Zuwaira, a consultant at the city's Teaching Hospital, were tailored to address how environmental and sanitation factors contributed in breeding mosquito larva and parasites. NASCO distributed approximately 1,000 treated mosquito nets to the residents of the neighbourhood, with the objective of reducing the large number of malaria cases. (July 2011)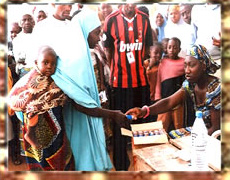 Cholera Intervention Programme – Jos, Plateau
NASCO, together with a local NGO, embarked on a programme to avert a potential epidemic of cholera. The affected district had become vulnerable to an outbreak following the collapse of its basic health amenities. Dr. Zuwaira of the Jos University Teaching Hospital enlightened participants on the methods of treating water to prevent cholera, as well as the first aid measures necessary to deal with the affects of the illness like dehydration. NASCO distributed a large quantity of water guards, ORTs and cleaning agents to all the participants of the programme. An Early Warning & Response Committee was also set up with the Ward Head, Mr. Dung Choji, to monitor the cases in the community. (June 2011)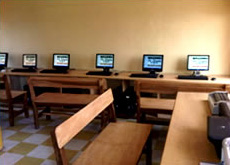 Computer Lab – Jos, Plateau
NASCO was actively involved in setting up a new modern computer lab at this academy in downtown Jos. The Group donated many desktop computers, several scanners and printers, as well as all the required furnishings and fittings for the lab. The proprietress of the academy, Ms. Safeeyah, arranged a special ceremony to thank NASCO and its volunteers for their support to the educational development of the students over the years. A large quantity of company products were also donated to the academy and its huge student population. (May 2011)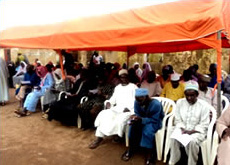 Empowerment Programme – Jos, Plateau
In collaboration with Liberty Skills & Empowerment Initiative (LSEI), NASCO sponsored 50 motorcycle taxi operators to undertake specialized programmes designed to reorient them on alternative work options, due to the dangers associated with their current jobs. The NGO has been successful in training over one thousand youths and women through the use of its Business Incubation Technology Centres. NASCO's sponsorship also included the necessary practical tools to operate immediately, and has opened up new opportunities towards making a living for all the participants. (December 2010)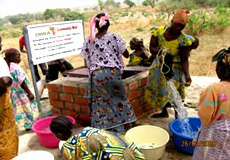 Community Water Wells – Minna, Niger
In collaboration with the Development Initiative of West Africa (DIWA), NASCO sponsored the digging of several water wells in remote villages in Niger State. These wells provide an easily accessible source of clean water for the villagers, where previously they were forced to walk 30-40 minutes every day to collect water from the nearest natural source. Each water well serves a village of approximately 200 people. To further sustain the health benefits of improved access to sanitation, DIWA also conducted seminars on hygiene for the communities in their local languages. (August 2010)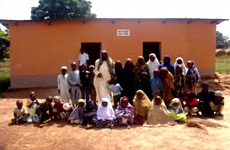 Village School – Gold & Base, Plateau
NASCO assisted in the structural renovation and refurbishment of this small school on the outskirts of the city of Jos. The Group was welcomed by the Head Teacher and the Village Chief, as well as the 35 young children who will be benefitting from this project. The local community was further supported with basic school kits, a collection of quality teaching books, and several educational sponsorships. A number of water wells were also dug in the vicinity to provide accessible clean water for all the residents. (September 2009)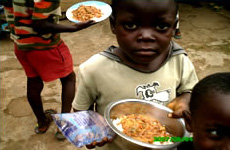 Annual Food Distribution – Jos, Plateau
Every year, NASCO distributes a considerable quantity of various foodstuffs, such as rice and cassava, to people who are suffering from food shortages and undernourishment. Undernourishment negatively affects people's health, productivity, wellbeing and sense of hope. The aim of this annual project is to alleviate poverty in the short-term, while working in conjunction with our other programmes that focus on increasing the economic, social and physical capacity of communities to sustain their livelihoods. (October 2008)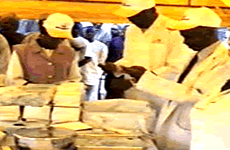 CSM Vaccination Campaign – Jos, Plateau
NASCO launched a free CSM vaccination campaign for all the families resident in the Hwolshe and Anglo-Jos districts in order to combat Cerebro-Spinal Meningitis. The effort was particularly focused on children, as they consistently remain without the required immunizations necessary to protect them as they grow. Professional health officers were present at the event to ensure that all the prerequisites were carried out before the vaccinations were administered. The health and wellbeing of the local communities is a key element of NASCO's corporate social responsibility. (March 2007)